The CCC Museum Store
Your purchase helps support the Civilian Conservation Corps Museum of South Dakota
Category: Books &nbspListing Date: 2020-12-18 &nbspProduct ID: 100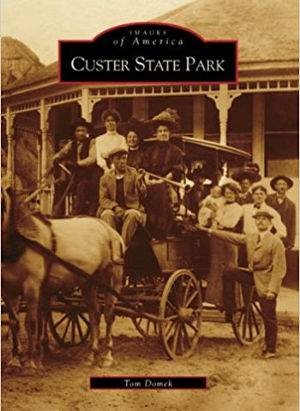 Custer State Park
Author: Tom Domek
Publisher: Published by Arcadia
Custer State Park is one of the largest and most beautiful state parks in the nation.
$23.00
Includes Tax
All sales in store only
STOP IN TODAY!
The author tells the story of Wind Cave National Park over its first 100 years using photos and text.
In 1903, the cave and surrounding area became Wind Cave National Park, the seventh national park in the nation and the first created with a cave as its focal point. In the 1930s, the Civilian Conservation Corps (CCC) established a camp near the park headquarters. The CCC built roads and buildings, landscaped and made improvements to better accommodate tours inside the cave.
Do you have questions about Custer State Park4>
We would like to know. Fill in the form below to send your information. Please include a valid email address or email from your own email client to: history "at" SouthDakotaCCC "dot" org.
---
Posted with keywords: Custer State Park,South Dakota,Tom Domek,book,history,Black Hills,Black Elk
Your purchases and donations help support the Civilian Conservation Corps Museum of South Dakota. Make your purchase at the museum today.