Designation: BF-3 &nbspDate: 2018-02-22
La Creek Refuge
South Dakota Civilian Conservation Corps (CCC) camp about 22 miles NE of Merriman, NE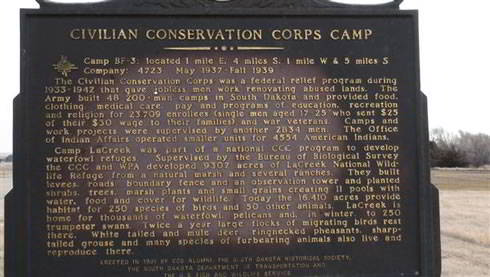 1937, 05/10 - 1939, 4723**
Date Closed: 1939, Fall?
Camp BF-3 was located at the present site of the headquarters of the LaCreek Migratory Waterfowl Refuge (now LaCreek National Wildlife Refuge), located 8 miles east and 5 miles south of Martin or 3 miles west and 4 south of Tuthill on the NW corner of section 16, T 36N, R 36W.
Camp LaCreek was part of a national CCC program to develop waterfowl refuges. Supervised by the Bureau of Biological Survey the CCC and WPA developed 9302 acres of LaCreek National Wildlife Refuge from a natural marsh and several ranches. They built levees, roads, boundary fence and an observation tower and planted shrubs, trees, marsh plants and small grains creating 11 pools with water, food and cover for thousands of waterfowl, pelicans and, in winter to 250 trumpeter swans. Twice a year large flocks of migrating birds rest there. White tailed and mule deer, ring-necked pheasants, sharp-tailed grouse and many species of furbearing animals also live and reproduce there.
Lat / Lon

always verify yourself

43.215183
-101.5129
GPS

always verify yourself

43° 12' 54.659" N
101° 30' 46.440" W