Designation: F-13 &nbspDate: 2020-08-25
Mayo
South Dakota Civilian Conservation Corps (CCC) camp 1 mile S of Sanator, SD which is south of Custer, SD
1933, 06/17 - 1934, 10/20, 1792
1935, 10/20 - 1936, 01/14, 1764***
Date Closed: 1936, 01/14
Camp F-13 was located about 7 miles southwest of Custer--about a mile from Sanator and was occupied by Company 1792--6/17/33-10/21/35, Company 1764--Fall 1935-1/14/36.
A mess hall and recreation building were built during the first month that the camp was open, followed sometime later by a bath house, hospital, and an undisclosed number of barracks (1934). In 1934 a new bath house and laundry were constructed, the recreation building was enlarged, and the old hospital converted to a barracks for camp overhead personnel (1935).
Frank Shaff - Tom Wulff - Lowell Bell


courtesy photo
Field work included tree thinning, dam construction, and work on the saddle trail and lookout station on Harney Peak. The men were praised for the fire fighting done in July and August. Culver, the lookout man on duty at the tower constructed by Camp Mayo on Cicero Peak, showed marked ability in locating fires before they were large enough to be dangerous (1934).
Camp Mayo in 1934 obtained a fleet of six forest service trucks. They lined up each morning without a speck of dirt to mar the luster of the "fresh from the factory look" (1935).x
Foundation rocks, a fireplace and other remnants of CCC Camp F-13, Mayo are still present at the campsite. Beecher Rock is visible in period photos as well as today. Satellite imagery reveals outlines on building sites (2015).
Mayo Campsite Now


courtesy photo - 2015
Beecher Rock Then


courtesy photo
Beecher Rock Now


courtesy photo - 2015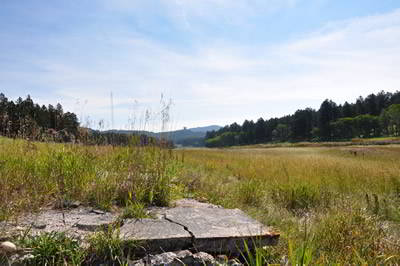 xDerschied, Lyle A. "The Civilian Conservation Corps in South Dakota, 1933-1942." Brookings, SD, South Dakota State University Foundation Press, 1986. No longer in print. Available at some libraries but may not be checked-out.
Lat / Lon

always verify yourself

43.688645
-103.615684
GPS

always verify yourself

43° 41' 19.122" N
103° 36' 56.462" W