---
Mahlon O. Alden
Wanblee, SD
1937, 2757, Narrows (Blue Bell), SP-3, cook
1938, 757, Doran, F-23, cook
"It was now July of 1937. The drought had ended. We had crops to harvest, but no market. We were cutting a wheat crop of good yield but no value. I was waiting for a way out and away. This opportunity would come sooner than expected.
On July 19, the mailman from Kadoka brought a letter from the United States Government addressed to me.
Papa and I came in from the wheat field for noon lunch. We got the mail and read the letter. The letter said Mahlon Alden was to report the next morning to location in Rapid City, South Dakota. I told my folks I would return to Kadoka with the mailman. From Kadoka, I would take the train to Rapid City. This way I could be at the designated location early the morning of July 20th.
My folks offered no objections to my plan. I cleaned up, put my best clothes on and was ready to leave when the mail truck returned. I remember Mama cried, Papa gave me a ten dollar bill and said, 'Son, you're always welcome to return home.'
I asked for permanent K.P. That started my cooking and baking career. This affected my life so many ways in years to come." x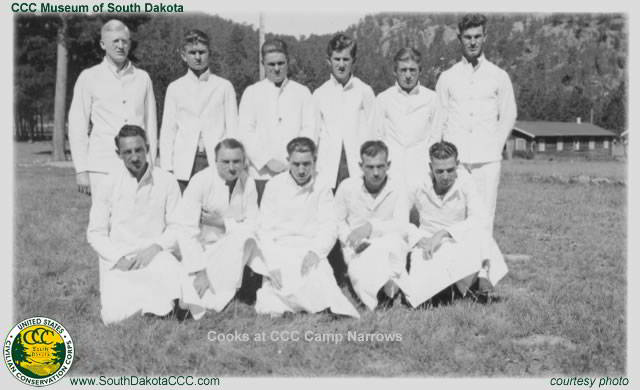 Mahlon O. Alden, 89, Belle Fourche, died Wednesday, Nov. 26, 2008, at Fort Meade Veterans Hospital.
He was born Oct. 13, 1919, in Wagner to Orville and Olive (Weekly) Alden, the third of six children. In 1926, the family moved near Wanblee. Mahlon worked on the farm and went to school through the eighth grade in a school house built by Orville just a half mile from the farm. He attended high school in Wanblee where he was a member of the track team.
Mahlon joined the CCC's for one year. He attended Chillicothe Business College. He enlisted in the National Guard with the 132nd Infantry in 1941, and was called to active duty on March 5, 1941. He was active in the Southwest Pacific and Central Pacific Theater of Operations. He was honorably discharged on May 23, 1945. Mahlon earned the Asiatic-Pacific Theater Campaign Ribbon, the Good Conduct Ribbon, American Defense Service Ribbon and 6 Overseas Service Bars and the Bronze Star.
He returned home and married Florence Stephenson on May 25, 1945, in Minneapolis, Minn. Their life was blessed with three sons. They returned to Sturgis, where Mahlon worked as a baker at Fort Meade. Mahlon began a new challenge with Black Hills Power and Light in March of 1951. He worked his way from lineman to district manager of the Northern Hills, earning an electrical engineering degree via correspondence. He retired in 1982 after 31 years.
After Florence passed away in 1990, he married a high school classmate, Kathryn Hutchings, in July of 1991. They spent nearly nine happy years together. His last female companion was Becky, who has four paws and fur.
He was a member of St. James Lutheran Church, the VFW and the Pioneer Bank Elite Club. Mahlon loved gardening, morning coffee at Motive Parts, playing cards at the Country Club and Pie Day in Newell.
He was preceded in death by his parents, Orville and Olive; his wives, Florence and Kathryn; sons, David and Mark; sisters, Letha Miller, Ardel Summers, Myrtle Ramey and Lynden Larson.
He is survived by a son, John (Paula) Alden, Tucson, Ariz.; grandchildren, Brian and Nicole all of Tucson, Ariz.; a sister, Joy Davidson, Monett, Mo.; several nieces, nephews, great-nieces and great-nephews; and special friends, Norm Durr, and Jim and Dorothy Ross.
Visitation was from 1 until 8 p.m., Sunday, Nov. 30, 2008, and from 9 a.m. to 8 p.m., Monday, Dec. 1, 2008, at Kline Funeral Chapel in Belle Fourche.
Graveside services were at 11 a.m., Tuesday, Dec. 2, 2008, at the Black Hills National Cemetery near Sturgis with military honors by the Belle Fourche Honor Guard.
In lieu of flowers, the family suggests memorials to St. James Lutheran Church or the VFW.
x The Civilian Conservation Corp by Mahlon Alden - In 1996 Mahlon Alden's son, John, asked him to write down memories of his life. As a surprise for his father John then created a book, which included those stories and many photos taken throughout Mahlon's life.
---
Do you have additional information about Mahlon Alden
We would like to included it. Please write or email us at History "at" SouthDakotaCCC "dot" org.