Designation: F-1 &nbspDate: 2015-07-10
Mystic
South Dakota Civilian Conservation Corps (CCC) camp about 4 miles south of Mystic, SD
1933, 06/29 - 1934, 10/20, 760**
1934, 10/30 - 1935, 11/01/, 2753
1935, 11/01 - 1936, 01/20, 2763*
1936, 01/20 - 1937,1790
Date Closed: 1938, 01/06?
Camp F-1 was located about 4 miles south of Mystic on a creek west of road 231. Staff at Black Hills National Forest headquarters plotted its location on the SE 1/4 of SW 1/4 of section 18, T 1N, R 4E.
The location was practically in the center of the Black Hills and had a most delightful climate. The altitude of approximately 6,000 ft made it a most livable location. The summer time temperature ranged from the 90s during the day to 60s during the night (1937).
Built in September and October of 1933, it originally included 13 16-man barracks, orderly room, supply room for both the army and forest service, infirmary with accommodations for 10 patients, bath house and laundry, barracks for army officers and forestry personnel, kitchen-mess hall, large recreation room, and three latrines (1934).x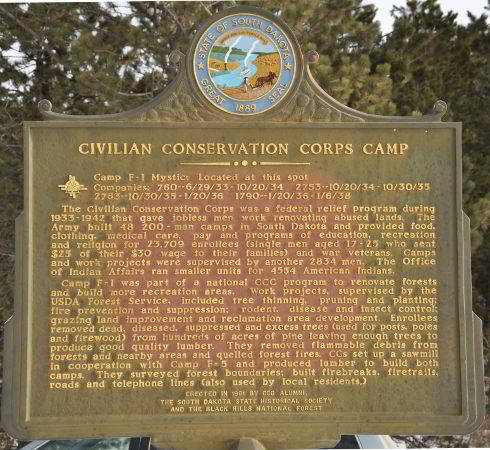 ERECTED IN 1991 BY CCC ALUMNI,
SOUTH DAKOTA STATE HISTORICAL SOCIETY
AND THE BLACK HILLS NATIONAL FOREST
---
Camp F-1 was part of a national CCC program to renovate forests and build more recreation areas. Work projects, supervised by the USDA Forest Service included tree thinning, pruning and planting, fire prevention and suppression, rodent, disease and insect control, grazing land improvement and reclamation area development. Enrollees removed dead, diseased, suppressed and excess trees (used for posts, poles and firewood) from hundreds of acres of pine leaving enough trees to produce good quality lumber. They removed flammable debris from forest and nearby areas and quelled forest fires. CCs set up a sawmill in cooperation with Camp F-5 and produced lumber to build both camps. They surveyed forest boundaries, built firebreaks, firetrails, roads and telephone lines (also used by local residents.)
xDerschied, Lyle A. "The Civilian Conservation Corps in South Dakota, 1933-1942." Brookings, SD, South Dakota State University Foundation Press, 1986. No longer in print. Available at some libraries but may not be checked-out.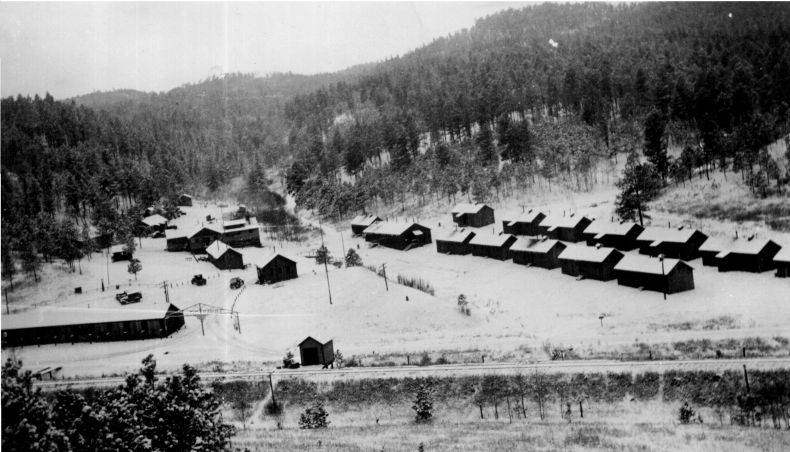 Camp F-1 Mystic


photo courtesy Melvin Hermanson
Lat / Lon

always verify yourself

44.034849
-103.666303
GPS

always verify yourself

44° 2' 5.456" N
103° 39' 58.691" W