The CCC Museum Store
Your purchase helps support the Civilian Conservation Corps Museum of South Dakota
Category: Books &nbspListing Date: 2019-03-28 &nbspProduct ID: 110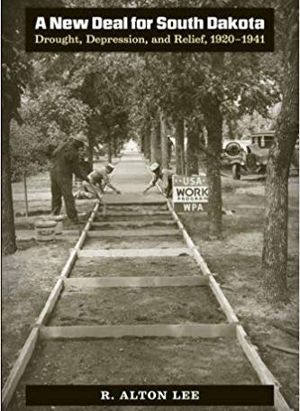 A New Deal for South Dakota
Author: R. Alton Lee
Publisher: SDHS Press
These conditions finally brought the state to its knees during the Great Depression.

Pay with credit card or PayPal.
View Cart Example | Check Out Example
The built landscape and economic underpinnings of present-day South Dakota are direct legacies of this era. Civilian Conservation Corps and Works Progress Administration projects expanded the state's infrastructure by building dams, civic facilities, and highways that are still used today. Other programs offered additional opportunities for young people, women, and minorities.
Do you have questions about A New Deal for South Dakota
We would like to know. Fill in the form below to send your information. Please include a valid email address or email from your own email client to: history "at" SouthDakotaCCC "dot" org.
Contact us about A New Deal for South Dakota
Posted with keywords: South Dakota,history,new deal,R. Alton Lee,depression,book,projects,CCC,WPA,Civilian Conservation Corps,FDR
Your purchases and donations help support the Civilian Cconservation Corps Museum of South Dakota. Shop online now or make your purchase at the museum.